Project Objectives
By using innovative image processing methods, accessibility features are collected and supplemented in automatically digitized building maps. The type of features collected, their required quality and use will be determined together with those affected and evaluated in pilot studies with the target groups.

The generated maps are made available in a barrier-free web application. The information on the maps should be individually adaptable to the current situation and the needs of the target group. Thus, all relevant route information can be researched independently, routes can be planned or a barrier-free representation of the building maps can be created in order to use them visually, tactilely or in spoken form at home or during the journey.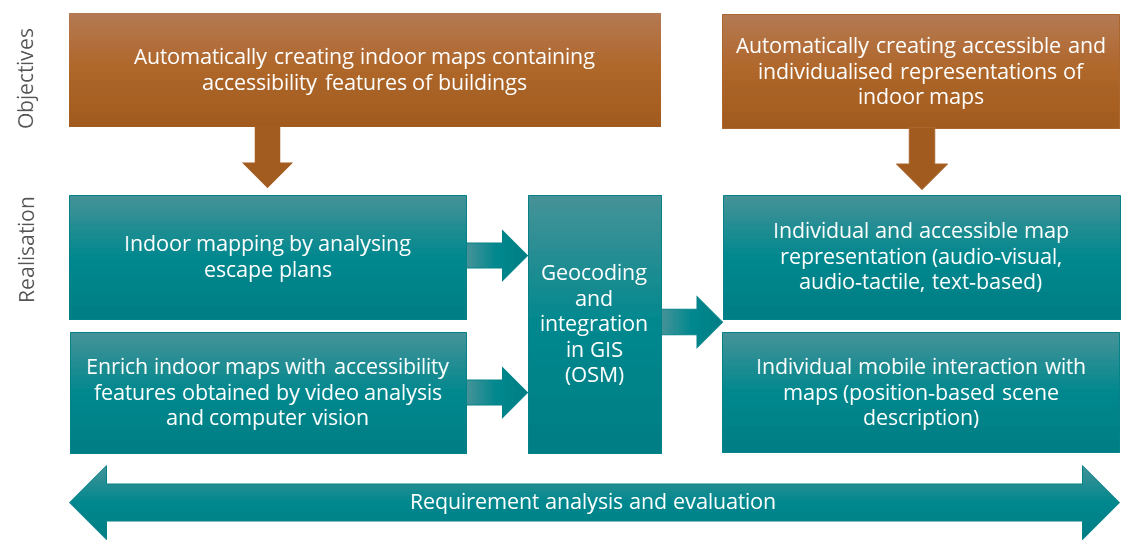 The diagram shows the schematic structure of the project plan of the research project 'AccessibleMaps'. Project goals (orange) and realization steps (turquoise), which are arranged horizontally below the goals, are shown in the form of colored rectangles. The graphic contains arrows from the goals to the necessary realization steps. Below the realization phase, an arrow, which runs across the entire width of the graphic, containing the text 'Requirements analysis and evaluation' is shown. Two objectives are defined in horizontally arranged rectangles: 1. automatic creation of indoor maps containing accessibility features of the building and 2. automatic creation of individualised, accessible map representations. In order to achieve the first goal, two steps are required in the implementation phase (arrow down): 1. indoor maps by analysing escape plans and 2. enrich indoor maps with accessibility features obtained by video analysis and computer vision. From each of these two steps, an arrow leads to 'Georeferencing and Integration in GIS (OSM)'. This is followed by two realization steps, which lead to the fulfillment of the second goal, the generation of different map representations. In the first step individual and accessible map representations (audio-visual, audio-tactile and text-based) are implemented. In the second step, individualised, mobile interaction with maps (position-based scene descriptions) will be realised.
Current State of the Project
Accessible Maps started in September 2019 and is scheduled to end in August 2022. The current main research focus is the analysis of user requirements, the automatic generation of floor plans, and the development of image segmentation algorithms for video processing.
Advisory Board Members
We kindly would like to thank our advisory board members:
Beirat für Menschen mit Behinderungen, Karlsruhe
Verband der Körperbehinderten der Stadt Dresden e. V., Dresden
Landesarbeitsgemeinschaft Selbsthilfe Sachsen e.V. (LAG SH), Dresden
Sehwerk Rehateam für Blinde und Sehbehinderte, Schriesheim
Bundesarbeitsgemeinschaft der Integrationsämter und Hauptfürsorgestellen, Chemnitz
Bundesagentur für Arbeit, Zentrale Auslands- und Fachvermittlung (ZAV), Arbeitgeberservice für schwerbehinderte Akademiker, Bonn
Staatsbetrieb Sächsisches Immobilien- und Baumanagement (SIB), Dresden
Vermögen und Bau Baden-Württemberg, Karlsruhe
Sektion Dresden der DGfK e.V.
Dezernat Planung und Organisation, TU Dresden
Campus Navigator, TU Dresden
Professur für Sozial- und Gesundheitsbauten, TU Dresden
Fakultät für Architektur, KIT
Zukunftscampus, KIT
Deutscher Blinden- und Sehbehindertenverband e.V.
Gemeinsamer Fachausschuss für Umwelt und Verkehr (GFUV)
Flyer of the Project
Below you can download the latest flyers of the project in postcard size and in the form of a leaflet (accessible pdf). Would you like to draw attention to our project? Please contact us if you would like to receive printed flyers.
The project is funded by the Federal Ministry of Labour and Social Affairs (BMAS) under the grant number 01KM151112